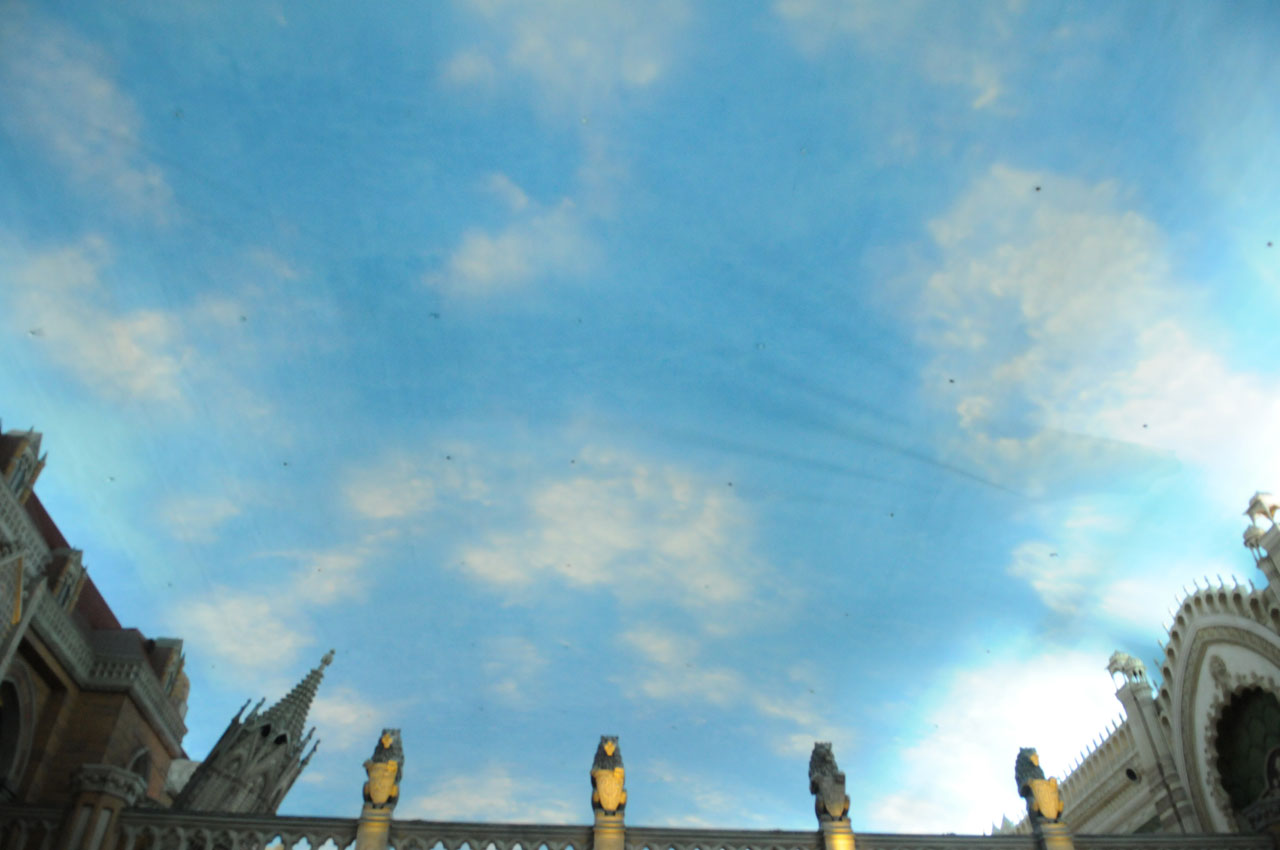 Mr. Arindam Paul born and bought up in Delhi, did schooling from Delhi Public School, RK Puram and then joined Zakir Hussain College for B. Com Hons. where he spend two years. He then completed his final year from the much reputed Shri Ram College of Commerce, University of Delhi. After completing his graduation, he started a business of fibre glass manufacturing as Paul Fibro, and meanwhile he alos finished MBA from AIMA, All India Management Association. Mr. Paul also has an MA in Disaster Management.

He did his business for about 7 – 8 years and gradually moved into the social sector. Since the last 10 years, he has been the chief secretary of GIDF and has been strategiging for the organisation and preparing the road map and the blue print of the functioning of the organisation.

Q. Kindly brief us about GIDF & its operations?
A. I joined GIDF in the year 2002 as a founder on the advice of Arindham Sir. We had a vision to work for the cause of underprivileged section of society and we focused on the areas of health, education, livelihood and environment. Our organisation was registered in September 2002 as an NGO. We initially started our activities in Delhi and gradually went Pan India, with GIDF working across 14 states now, regularly implementing projects on various themes of education, health, livelihood nd environment. We are also implementing projects on behalf of many ministries of the Govt. of India, Corporates and international agencies.

Q. Relation & Association with IIPM
A. I have been close to Arindham Sir as I was a close friend of his late younger brother Aurobindo Chowdhri, who unfortunately passed away at a very ripe age due to an accident. We were best pals and had studied together from preparatory to class 12th; in fact we were in the same section. So, I volknew Arindam Sir and we would quite often and one fine day while chatting around he proposed the idea of starting a foundation in memory of Aurobindo. Being close to the family, especially Arindham Sir and Director Sir I knew the commitment they had towards social causes as they were running numerous programmes for the development of society. In fact when Aurobindo met with the accident, he was going to take classes for the students who had come from West Bengal, which was a part of social curriculum. So, when Sir told me that he wanted to start a foundation and serve country, I was a little excited as I also had a passion to work for my country, but because I was running a business, I took some time to decide, but because of the spark of service to nation I joined sir.

Evolution of Social Sector & challenges that lie ahead Ours is a very unique country. We face a lot of challenges because we have a diverse culture, a huge population and a sizeable landmass. We are a developing nation and inspite of a large economy, the difference between poor and rich is getting wider with every passing day. Yes, there have been a lot of social organisations who have done a lot of credible work, but its only been 10 -15 years that social sector came into limelight and Govt. has started looking into such sectors. Mandates are being to PSU 's where they have to spend a certain percentage of profit for the social causes and a bill is also being proposed where such provisions will be put in place for corporate sector as well. Even though the bill is not passed and CSR is not compulsory, many companies are already working on CSR because it is their social obligation towards the society and besides it helps an organisations in building a socially acceptable image. In fact, when a company plans to invite foreign investors, the investors look into their CSR ranking. So they rate your company as per CSR initiative that you have undertaken.

GIDF - The landmarks and cornerstones thus far There are many projects that we have initiated. One such programme was started in the late 90's, known as "the mobile health outreach programme". It was first of its kind at that time. The idea was to provide the basic medical care to poorest of poor, free of cost. Even though the Govt. is spending a lot on health care but providing health care in remote rural areas is still a challenge. It can take 2-3 days for people living in very remote place to reach the nearest healthcare center or to a doctor. So, we started a project in Madhya Pradesh in a district called Guna, where we had a mobile medical van along with doctors and pharmacists and visited the most remote locations, where they had no medical facilities available. Looking at its success, Madhya Pradesh Govt. also started a similar prog. running all across the state and many other states are now replicating it.

We also did a unique programme called "E – shiksha programme." It is a unique programme about taking computer education to rural children. India insipite of being an I.T giant, lags behind in terms of computer education in rural areas. We have lack of infrastructure, power and even if a school has computers, the student tutor ratio is very low. Or we may have a school of 600 students and only a few computers. So, what we did is, we came up with an air conditioned vans, fully equipped with laptops and self sustaining power generation unit to power both laptops and a.cs. These vans travel different locations providing computer education to children and youth. This programme is being supported by UNICEF and GALE India.

We are also running a programme on skill development where we provide skill development training to un-employed youth, especially belonging to families below poverty line and then get them placed. We are implementing this programme in partnership with Ministry of Rural Development. This project has been great success and has been a implemented across 5 – 6 states across India, where thousands of youth have been trained and successfully placed.

On Leadership and sense of social connect with people We have been fortunate enough to get a good pool of people who work for our organisation. I personally believe that if you have right people, right team then 50 % of your job is done. So, selection of a team is very crucial while implementing a project. We are a staff of around 150 people working across country who are a mix of social work professionals, doctors, engineers, MBAs etc. All of them are subject specialists, so for environment related projects we have a set of people trained on environmental engineering, for health related projects we have doctors, for educational projects we have people with B-Ed or an M-Ed. Because of the kind of work we do and the reputation of our organisation, we get a good inflow of people who want to join the organisation and a lot of people in GIDF family have been there for as long as 4 – 5 years.

Here at GIDF the nature of work we do requires us to be very committed and the people here are very passionate about their work. In social sector we may not be paid well as compared to corporate sector, but our work is driven by pure passion.

Q. Social Causes and Indian youth
A. I believe everybody has an inclination towards the country and most of us have passion to serve the society. It is just about providing the right opportunity for people to volunteer. Together with proper education and right volunteering opportunities more people will be drawn towards social work. I believe awareness should be spread right from schools, where students are taught social inclusion, being part of social awareness and volunteering and a society is built where social work is ingrained into the personality and character of men.

Youth in today's materialistic world are being driven by monetary aspects but I believe social values still exist. It is all about awareness and right opportunities. I believe IIPM has a very nice balance where in the curriculum, social work is its part and every student has to devote certain no. of hours for social work to be eligible to get a degree. Arindam Sir and Director Sir believe that if social work is included in curriculum, it gets integrated into the lives of students and when they move onto their professional lives, they continue their service to society.

Q. Your world outside the working realms
A. We are a family of four. Me, my wife, my mother Simothy Paul and my son Aditya Paul. It is pretty late when I reach home, but I make sure I spend at least one hour daily with my son. We read stories and indulge in many fun activities. I keep Sundays reserved for my family. We also spend quality family time at summer and winter holidays by going on vacations.

A Union of Zest & Zeal
Ashok Bose
Head of Establishment, Delhi



One of the members from the earliest days of IIPM, Mr. Ashok Bose has been spearheading all the administrative work across India for IIPMs. His dedication is evident in his work and his love and passion for IIPM is never ending. Mr. Bose received the Pillar of the Year award in 2007-08 and owes a lot of his learning to Dr. MK Chaudhuri who helped him ever since he was a kid. He also set up the early learning center for Bhartiya Manavata Vikas Kendra (now GIDF). A friend and an admirer of Prof. Arindam Chaudhuri, Mr. Bose has layed a solid base to the IIPM administration.

Mr. Bose starts off by taking us back to the early 80s when he used to play at the small grounds of CR Park and was often joined by Prof. Arindam Chaudhuri. He adds, "At every Bengali New Year, Dr. MK Chaudhuri used to call us home, tell us wise things, and overall it was joyful". Mr. Bose recollects that it was Dr. MK Chaudhuri who helped him to get into IIPM. He also loved his subject, National Economic Planning (NEP) a lot. "At that time, Dr. MK Chaudhuri was running an NGO and I got a chance to handle its operations", reminds Mr. Bose. For that, he travelled to West Bengal and opened the first four centers. Dr. MK Chaudhuri would get students from these centers and train them. "Director Sir trained me as well, and that is how I got my education", says Mr. Bose. He is proud to tell us that when he finished his training, he was able to score 85 out of 100 in NEP, and that still remains as one of his proud achievements. He affirms, "Slowly and surely my passion grew and I got totally associated with IIPM". Mr. Bose also admits that he learned a lot of things from Dr. MK Chaudhuri especially about being good managers. "Today I look after many centers and I also take many administrative decisions", adds Mr. Bose.

On retrospection, Mr. Bose considers himself extremely lucky to have a friend like Prof. Arindam Chaudhuri and also feels that no other organization would have provided him with such a career. Expalining about the different style of leadership of Dr. MK Chaudhuri & Prof. Arindam Chaudhuri, he thinks that since he learned all the basics from Dr. MK Chaudhuri, it was not very difficult for him when Prof. Arindam Cahudhuri came at the helm. "Arindam woud remember the name of each and every employee who worked at IIPM and Planman, and used to handle every situation very well. Thus, the growth story that IIPM has created is phenomenal and no other organization can close to the growth track that IIPM has carved", says Mr. Bose. The essence to that according him is that at IIPM, there are good people, good bosses, and good mentors. Even if anybody commits a mistake, the crux is that we adopt correctional measures rather than punishable measures.

Summing up on the transition that IIPM has witnessed, Mr. Bose explains that with the improvement in economy and lifestyle of Indians, the type of education required has also changed. "I remember when I was young, salaries were limited and most of the necessities of today were considered affluent and luxurious", adds Mr. Bose. He is also quick to point at the BFSI bubble burst due to which loans are not a big issue these days. About the legendary men who were part of the early days at IIPM as faculty, Mr. Bose gets nostalgic and says that he has been extremely fortunate to be a part of IIPM when scholars like Dr. JK Mitra, Dr. NC Shukla, Dr. Manab Adhikary, Prof. Shyamsundar, and Prof. Bagga, used to teach the students of IIPM. He reminds us that all of them were authors of many books as well which shows their quality. Thus the whole journey of IIPM has been similar to that of child, from infancy to a fully grown adult. So from a single campus in 1973, today IIPM has 18 centers pan India. In terms of challenges that he had faced when he joined IIPM at the early phases, he thinks it was not very difficult because back then the students understood the institute very well and so not many issues were faced and even if there were any, they were minor and solved with ease.

Speaking about his way of leading people, Mr. Bose keeps it simple by following the policy of understanding and trusting his team. "If someone says that he or she is unwell, then I as a leader should understand the genuine problem and not ask the person to work", Mr. Bose adds as an example. He makes sure that he does not reprimand his team in public which creates negativity.

Mr. Bose feels that the current scenario is very hi-tech and thus market demands have changed completely. "I come from the postcard era, and now we have emails, BBMs, and so many other ways of communicating. Thus every demand is specific in nature nowadays". For the current generation of IIPM, Mr. Bose is confident that the faculty of IIPM is still very capable and the students should try and imbibe the right set of values and education from all of them.

Mr. Bose is a complete family person when he is out of office. "I am still in touch with my childhood friends and often hang out or go for movies on Fridays", adds Mr. Bose. His elder daughter Monalisa is a 1st year student at IIPM and his younger daughter Anjali is in 6th standard at The Frank Anthony Public School. "And, of course like all good men, I love my wife and we as family love going out when free", concludes Mr. Bose.